∞ THE VINEYARDS ∞
Over the generations, the family vineyard has expanded, divided and reconstructed. Some plots were purchased and others sold. Many were uprooted and news ones planted. In 2019, the estate is about 20 hectares in total, of which 15.5 are under vines and the rest is made of woods and open fields for biodiversity.
Everything is farmed Organic & Biodynamic (certified by Ecocert and Demeter) with constant attention to quality and care for the plant and its environment. Most of the vines are between 15 and 40 year-old and this means their root system is well established. Vines at this age are in their prime.
Strategic restructuring of the vineyards is already in the works (buying neighbors vineyards or open fields, ripping off and replanting or grafting vines, planting trees…). The idea is to adapt our estate to today's needs but also to prepare it for the future; indeed we consider ourselves to be borrowing the land from our children. We strive to make it better for them.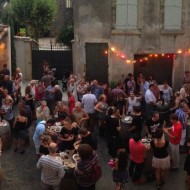 03
May