We are there to monitor the grapes during their transformation into wine but we humbly stay behind it. After all, they make the wines, not us.
For this, we ferment each plot separately in a very natural manner. This means without adding yeasts, enzymes or sulfites. We adapt to the juice's evolution in tank: more or less extraction, temperature control and racking when we are satisfied with the end result.
Simply put, we don't use any additive or process with a complicated name, or anything that cannot be found in nature.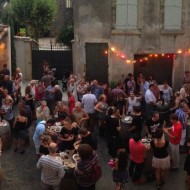 03
May