our Events at La Gabinèla…
FULL MOON PARTIES
Every month, "Sky will fall into your glass" when the moon is full! From 8pm-booking only
Our Natural & Organic Wines + those of a fellow colleague at CELLAR DOOR PRICE during the evening!
Farmers Tapas from locally sourced, organic/healthy/natural products brought by our farmers friends…
Live Music with each time a different band!
No entry fee, you pay for what you eat and drink! Wines by the glass (2-5€), by the bottle (10-25€), Tapas (5€)… Here are the 2017 dates to note on your calendars… Ready to Book?
Wed. May 10th
Fri. June 9th
Sat. July 8th
Mon. August 7th
Wed. September 6th (if Harvest allows us with a free evening!)
Thu. October 5th
LES "5 À 7 DU VIN" – 2H OF FUN TO LEARN ABOUT WINE!
With my experience as a teacher and my knowledge of french and international wine regions, I will offer you different wine classes around wine, starting fall 2017. Around 1h theory and 1h tasting, to learn while having fun! Program is not established yet, but you can already put your name on our list of people interested!
Also, we can organize any kind of wine event/class, here on the estate or at your place: feel free to contact us to see what's possible!
The topics that will probably be approached are the following:
Tasting Initiation + the difference between white and red wine (maybe you think it's obvious??)
Great White wines from France – the regions and appellations that matter (and the same thing about reds!)
Organic, biodynamic, natural wines: what does that mean and why does it matter?
How to make white wines – dry, sweet, sparkling… behind the scene!
How to make reds and rosés – bleeding, pump-over, extraction… those words will have no secrets for you anymore!
 Aymeric Amiel
COME VISIT OUR ESTATE AND TASTE OUR ORGANIC/NATURAL WINES!
This summer, every friday afternoon at 2:30pm or at another moment, by appointment…
AND SO MUCH MORE TO COME…
"Farmers Brunchs", "Food & Wine" dinners, Classes about nutrition, cooking, pastry… we've got plenty of ideas!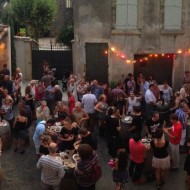 03
May